Jacopo Giagnoni
A solid design relationship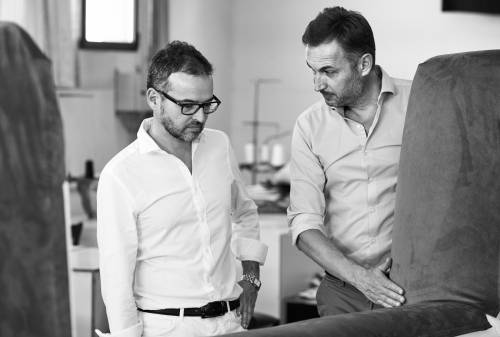 Papadatos and Jacopo Giagnoni: the company started working with the Italian architect and designer back in 2014 and collection after collection this cooperation continues to strengthen the identity of a brand whose distinguishing feature is continuity. The first collection developed jointly with Jacopo Giagnoni consisted of just a few pieces but was hugely successful among all the trade. Thus ensued a wider working partnership that culminated with Jacopo Giagnoni.
The deepest roots of this successful collaboration in terms of the results it has given, lie in the deep harmony that binds Jacopo Giagnoni to the Papadatos' family and in their having the very same mindset. The cultural background, professional experience and sensitivity of Jacopo Giagnoni found fertile ground in a company that translated the designer's insights into finished projects.
Papadatos collections are born in a climate of shared ideas, surrounded by a myriad of cues and observations. These may come from different sources of inspiration and then converge into aesthetic motifs that interpret the Papadatos style in a modern key and with a special focus on the details, finishings and materials that give the collections their uniqueness.
Jacopo Giagnoni founded his architecture studio in 2000 in Florence, Italy. While he was still student and after graduating cum laude in Architecture at University of Florence, Jacopo gained experience in several renowned architecture and design consultancies as Archea Associati and Rossi Prodi Associati leading project teams and working for public institutions and brands. Carrying on his personal and academic research, he achieved a PhD in Urban and Architectural Design at University of Florence where he lectured as Contract Professor and still collaborates. He has been member of the editorial staff at the international magazine of architecture Materia from 2000 to its end, 2013. Professor of Industrial and Interior Design to Accademia Italiana, University of Wales, Arcadia University.